What's good for the soul
I actually still have no idea of what awaits my friend and myself as, early one morning, I step through the door of the Hotel Engel. But somehow we already tread more comfortably as soon as we arrive, which is undoubtedly due to the surprising peacefulness that you immediately sense here. We receive a friendly welcome and are accompanied to the "Holistic Spa" area. Soft music comes from somewhere and a heavy chandelier over the stairs invites us to descend to where I am to have my first ever Ayurveda massage. Nilantha Kumara Hettige is already there waiting for us: he is an Ayurvedic therapist from Sri Lanka who studied Ayur yoga at Dr Swami Nath Mishra's leading school in India.
From head to toe
I enter the treatment room first where I undress, wrap myself in a fluffy towel, sit on the massage chair and wait for Nilantha. He specialises in Ayurvedic Panchakarma treatments (Panchakarma is the most important Ayurvedic detox cure) and – as I now learn – I will today be enjoying an Abhyanga full body massage! This combines several techniques aimed at ensuring deep relaxation and vitality for the body. It all sounds very good. We begin with some warm vegetable-based oil and the therapist's hands on my head.
I am now thoroughly massaged there, with some points stimulated on my face. Then it is time for my shoulders and neck – my personal "Achilles heel", as I really have problems with these areas since suffering an accident and then giving birth to my son. The stimulation in this area does me good.
Now I lie down on the bed where the rest of my body will be massaged. Nilantha tells me that an Abhyanga massage has a revitalising effect and stimulates the digestion all while strengthening the muscles, joints, connective tissue and the whole body, leaving the skin radiant and improving the sleep. We both have to laugh when I ask whether this will also work on a three-year child who still does not sleep the whole night. But as this massage also has positive effects on the stamina, concentration and power, these factors might indeed prove helpful in this regard. ;)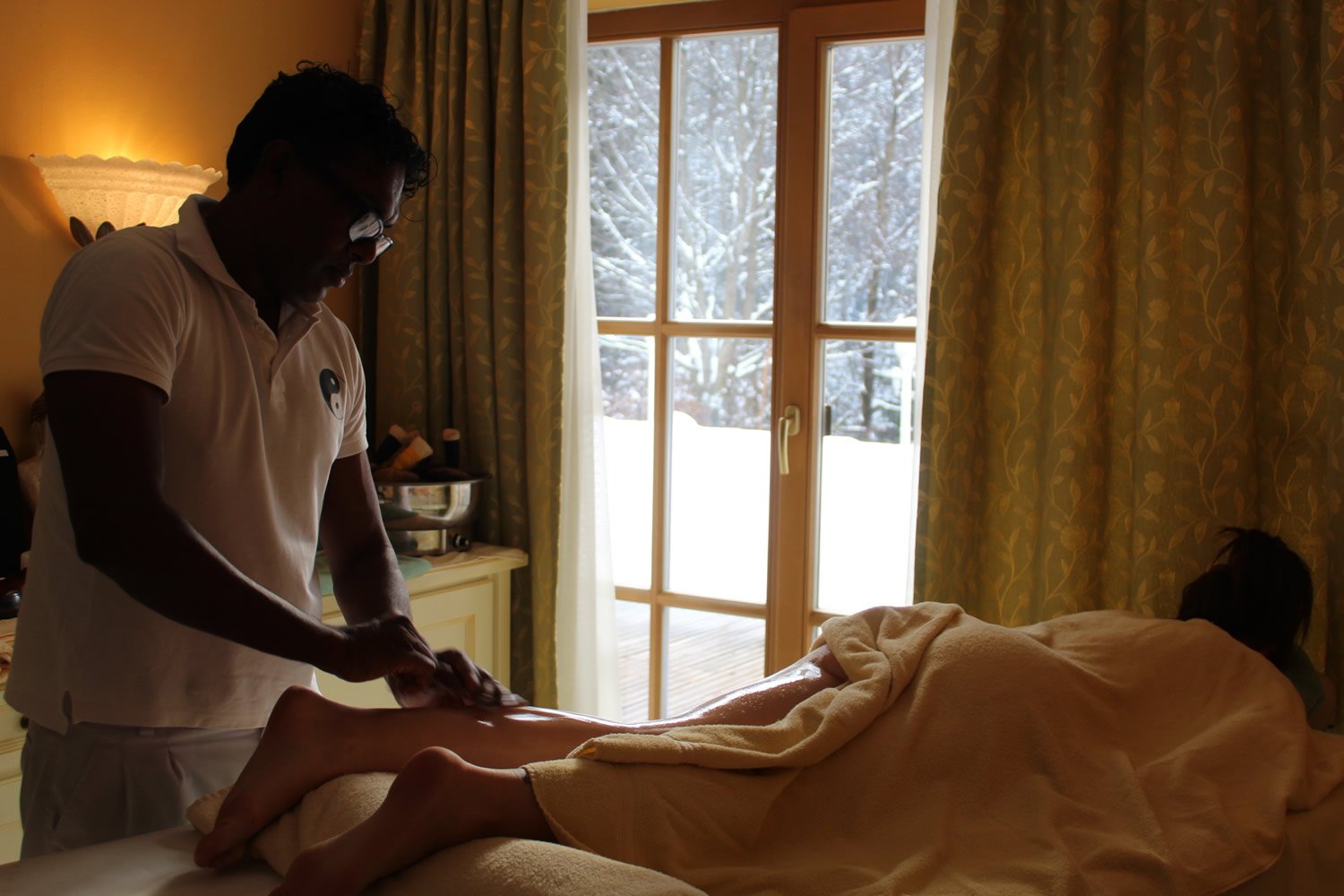 An honest massage
During the massage I notice that some of the holds are very pleasant, others less so. "This is necessary, the body has to feel that something is being done" laughs Nilantha. Gentle stroking is of no use, he says. Well, at least he is honest – and so is the massage. It does in fact hurt where it is supposed to. After some gentle and not-so-gentle stroking, Nilantha leaves the room so that I can have a quick warm shower before getting dressed again. I do not use shower gel as I want to keep the soft feel and scent of the massage oil on my skin for the rest of the day. Then, after my very first Ayurveda experience, I am offered a hot ginger drink and a seat where I can slowly recover from my mood of deep relaxation. This is the perfect way of waiting for my friend, who has just enjoyed the same pleasurable experience as I have.

Memories should be recorded so, after our Abhyanga massage, we take a photo with the friendly and humorous masseur and say goodbye, as a traditional Ayurvedic lunch awaits our hungry stomachs.
You never know until you've tried it!
I still have no idea what sort of food will be served. I have of course eaten Asian food from time to time, but Ayurveda cuisine is completely new to me. And, if I'm completely honest, I am no great fan of experimentation when it comes to food. But when my friend tells me how much she liked Ayurveda cuisine (on this day she is well ahead of me as regards the Ayurveda experience) and that it mainly consists of rice and vegetables, I feel reassured. And once the wonderfully creative plate is set before me on the table and the first aroma reaches my nose, my palate and stomach wholeheartedly look forward to the meal.
The aroma does not disappoint: the Ayurvedic turmeric rice with peas and onion powder tastes wonderful even though – or perhaps because – it does not contain many ingredients!
At the same time we are served courgettes and celeriac, with no special frills but with just as much in terms of the aesthetics and excellent taste! There is even a dessert included in our Ayurvedic lunch, panna cotta from soy milk served with berries. Delicious!
The chef at the Hotel Engel, Theodor Falser, joins us and explains that an Ayurvedic menu (like any other menu) can involve up to six courses. "No one need leave our restaurant hungry", he says. "But less can be provided in the evening, with soups perhaps served then." Theodor also tells us of his pleasure in seeing his dishes make a difference to his guests. "If they stick to an Ayurvedic diet you can really see the positive changes to their health during the course of their stay."
Quite frankly, if all of Theodor's Ayurvedic cuisine tastes like our lunch today, that will certainly not be a problem!
Questions about questions
My stomach starts to digest the unfamiliar fare and I start to wonder whether my body really needs all the stuff that I constantly feed it? Do I have sufficient time for myself and my body and the necessary knowledge of what is good for it and ultimately good for my soul?

At the end of this taster session, I am fully ayurvedised – I have no idea if this is a correct term, but it doesn't matter. At any rate I truly feel ayurvedised! Following this first experience and with plenty of background information about this traditional Indian healing art, I return home feeling enriched and inspired – not to mention with a new awareness of my own health.